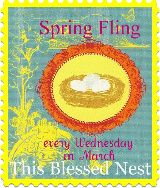 Over at
This Blessed Nest
she is having a Spring Fling! What is a Spring Fling you ask....well every Wednesday in the month of March you post anything spring related and link it to her blog. It could be photography, artwork, clothing, decorating, really just about anything will do.
Here is her version of a little spring happiness.....just for inspiration.
Why don't you come along and play!